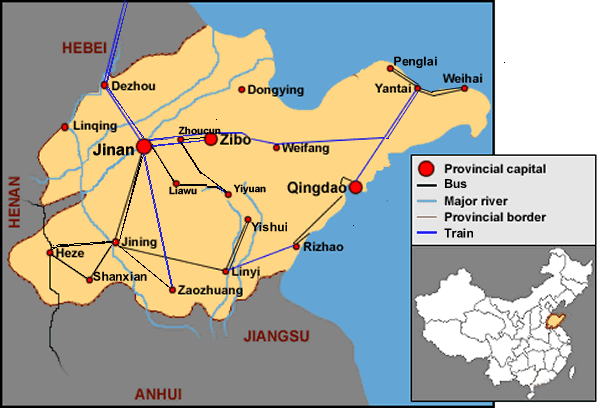 Travels in Shandong Province, People's Republic of China, Summer 2012
Jinan>Shanxian>Heza>Linyi>Yishui>Linyi>Rizhao>Rizhao National Coast Forest Park> Rizhao>Qingdao>Yantai>Penglai>Yantai>Weihai>Yantai>Beijing>Dezhou >Beijing> Jinan>Zibo>Zhoucun>Yiyuan>Jinan>Jining>ZaoZhuang>Beijing>Jinan
Travel was primarily by bus (14+ trips). train (7 trips), and one trip by car.
The following Shandong Sport University students helped with schedules, buying bus and train tickets, booking hotel rooms, organizing meals, and site seeing: Zoe, Ellen, Anna, Dawn, Tony, Victor Li, Tall Bill, Michael, Alma, Stacy, Ivy, Dorothy Li, Asia, Amy, Abby, Leah, Michael, Swift, Naomi and Justin.
Two of my former students from Michigan Sate University gave me much support and encouragement - Han Mei (Jinan) and Wang HongXia (DaXing).
I also met relatives, high school classmates, and friends & family of my students as well as some of my unofficial students in Daxing (Black Hawk, Leo, Fran, Rebecca,). These include Zoe's sister Lu, two of Victor's friends, Asia's best friend Lily, Leah's cousin Yang, Leah's workmates at KFC (Candy & Flower), Michael's cousins (Jerry, Catherine, and David), and others.
This activity resulted in personal, extended contact with 20% of my regular students. In addition, another 20% of the students were contacted/in contact via email, texting, and phone contact. Students have told me that pictures were posted/reposted on Chinese sites and the activities were discussed on Chinese social web sites. In the Fall I plan to run a survey to find out how many students visited the grampabill.com site OR followed this activity through other social media.